The Club began the year as 3rd Division newcomers and ended the season, again under Dave Hall, as Champions, just edging out Otara Rangers on goal difference and pushing Oratia back to third. Needing a 1-0 win over Tauranga City to tie with Otara and Oratia, it took goals from Nacho Reyes, (an equaliser from Tauranga's Larry Seales from the penalty spot), John Cyples, Geoff Tozer, Steve Williams and another from Reyes.
In the Waikato Unicol 5-aside Tournament the Club entered two squads. The A Team from senior strikers and the B Team from senior defenders. Both sides made it through to the finals where the B Team were triumphant over their much vaunted opposition.
In the two other Tournaments entered this year the club was placed 3rd in both the Cambridge and the Rotorua pre-season competitions. The Club entered for but was not accepted into the Tokoroa post-season tournament.
The Seniors were named Team of the Month for April by the Northern League Provincial Council.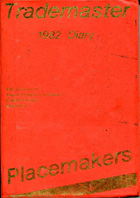 1982 IAN MILLER'S DIARY
Ian Miller kept a weekly account of Northern League games played, their results and the weekly table for 1982.
1982 CENTRE SPOT MAGAZINES
The weekly comings and goings in bulletin form here.
JUNIOR TEAM PHOTOS
7th Grade 'J', 7th Grade 'P', 7th Grade 'I', 9th Grade 'A', 9th Grade 'J', 9th Grade 'R', 11th Grade 'F',
11th Grade 'O', 11th Grade 'W', 13th Grade 'A', 13th Grade 'J'.
DAVE HALL PACKET SYSTEM
Senior Coach Dave hall has a rating system for each of the games his senior side play. The greater the number of emptied cigarette packets around his feet after the match indicates a poorer on-field display by the team. In the 13 pre- season matches, including Country Foods Cup games, the tally of packets was University (1), Onehunga-Mangere (4), Huntly (6), Waiuku (4), Rotorua Suburbs (4), Taupo (4), Mt Maunganui (3), Tauranga City (2), Wanderers (5), Onehunga- Mangere again (4), Unicol (5), Mt Maunganui again (3) and Auckland University (3).
FIRST GOALS
Keith Mackrell was first to commence goal-scoring and find the net for Narra in their 1982 quest for Division honours (against Claudlands Rovers 2-0). Jason Cargo was, we believe, the first player in NZ to score in the Chatham Cup rounds when he netted in the opening minute in a 5-0 win over Wanderers.
CAMBRIDGE TOURNAMENT
Twenty-nine teams competed in 8 groups with Narra topping Group 4. Drawing Mount Maunganui in the quarter-finals the 1-1 draw was won 5-4 on a penalty shoot-out. In the semis a 2-2 draw with Auckland University resulted in a 3-5 loss on penalties. Ellerslie beat University 1-0 in the final.
MINI MIKE
Mike Matthews, one of our diminutive players, fell into a depression at the Horotiu training ground made by a sheep's footprint, but quick thinking by Steve Williams had him back up onto the field in no time!
FEES SET
The fees for 1982 were set at $15 per senior player, compared to $50 at other Clubs. Juniors are charged $4.
MILLER MADNESS
It was noted during the season that an incident in the Ian Miller household arose illustrating the depth to which Ian's mind dwells on soccer. He wandered into the kitchen, spotted a paper bag on the bench and dutifully deposited it in a Kleensack and put it out with the garbage. The next day there were enquiries as to where the groceries had gone!
MANILLA THRILLER
Sideline Sam (alias Gladdis, alias Glen Gray) gave the club a full written report on his trip to Manilla –" Arrived Manilla on Wednesday 7th April. Arrived Auckland airport Wednesday 21st April".
During May the Bournemouth team (which had clinched promotion to the English 3rd Division just 10 days before flying out) met Waikato. The "Cherries had lost just 4 of their 46 games this season, having the best defense in the 92- team league. The Waikato squad comprised:
Alec Young (Tauranga), Tony Dickman (Cambridge), Geoff Flowerday (Huntly), Jim Keaney (Claudlands), Sean Crowe (Ngaruawahia), John McDermid (Ngaruawahia), Dick Plume (Ngaruawahia), Graeme Fleming (Hamilton), Mike Groom (Hamilton), Peter Hoebergen (Hamilton), Paul Meecham (Hamilton), Harry Gilgrist (Hamilton), Doug Snapes (Hamilton), Laurie Fawcett (Hamilton), Paul Gemmell (Hamilton).
The match was refereed by John Cameron with Sytze deBoer and Peter Hawes as linesmen.
NZ v WATFORD
Fifty-six junior players from the club travelled to and paraded at Mount Smart Stadium before the start of the New Zealand-Watford match in May. Because Ngaruawahia was the only Club from outside the Auckland City area, they were given the honour of leading the parade of juniors into the stadium. The players from Ngaruawahia were also named as best presented team of the day and received an award from Charlie Dempsey (NZFA Chairman) and Bertie Mee (Watford Assistant Manager).
Some of our juniors had the opportunity of warm-up kicks with Wynton Rufer and Michael Mercep came home with a ball autographed by both teams.
VALUABLE SUBS
Of the 26 substitutes to warm the bench in the first 13 games of the Northern League season, 18 were used and 7 of them won the game for the team!
EXCUSES
Coach Dave Hall's collection of 20 most-used excuses for missing Thursday training in 1982 were:
1. "I'll be working late and won't finish 'till 6." (Didn't turn up at all).
2. "I'll be working until 5:30." (Arrived 7:30).
3. "I have the 'flu." (But was OK on Saturday).
4. "I have a heavy cold." (But turned up for a game on Saturday).
5. "I have friends calling in."
6. "My mate from the South Island may be calling in."
7. "I feel over-trained but will be fine on Saturday"
8. "I have no transport." (Didn't ask for help).
9. Wants a night out.
10. Wants a night in.
11. Wants an early night. (Seen in the pub at 10pm).
12. Got a bad leg. (Will be OK Saturday).
13. Got a bad back. (Will be OK Saturday).
14. Got a headache.
15. Will be playing social basketball.
16. Will be playing social squash.
17. "Training's not worth it."
18. "I'm not getting fit." (After three sessions).
19. "I've got a birthday on." (Not wanting to shout at the club).
20. "I haven't come to train. I just want a chat with you."
MUSICAL CARS
Dave Hall's car radio speakers are unique. When turning left the right speaker cuts out and the left goes on the blink when turning right! When Dave puts the brakes on they both switch off!
| | | | | | | | | |
| --- | --- | --- | --- | --- | --- | --- | --- | --- |
| 1982 Div 3 | P | W | D | L | F | A | GD | Pts |
| Ngaruawahia Affco | 18 | 12 | 3 | 3 | 42 | 16 | 26 | 27 |
| Otara Rangers | 18 | 13 | 3 | 2 | 43 | 16 | 27 | 27 |
| Oratia United | 18 | 12 | 3 | 3 | 38 | 15 | 23 | 27 |
| Claudelands Rovers | 18 | 10 | 0 | 8 | 39 | 29 | 10 | 20 |
| Cornwall | 18 | 8 | 2 | 8 | 35 | 36 | -1 | 18 |
| Huntly Thistle | 18 | 5 | 7 | 6 | 29 | 36 | -7 | 17 |
| Pt Chevalier | 18 | 5 | 4 | 9 | 26 | 45 | -19 | 16 |
| Tauranga City | 18 | 4 | 4 | 10 | 27 | 42 | -15 | 12 |
| Kelston West | 18 | 1 | 6 | 11 | 17 | 37 | -20 | 8 |
| Hamilton Wanderers | 18 | 3 | 2 | 13 | 22 | 46 | -24 | 8 |
| | | | | | | |
| --- | --- | --- | --- | --- | --- | --- |
| 3-Apr-82 | H | Claudelands Rovers | Won | 2 | 0 | Mackrell, McDermid |
| 10-Apr-82 | A | Kelston West | Won | 3 | 1 | Reyes, Mackrell, Cyples |
| 17-Apr-82 | H | Huntly Thistle | Won | 3 | 1 | Grandonna 2, Cargo |
| 8-May-82 | A | Oratia United | Lost | 0 | 2 | |
| 15-May-82 | H | Otara Rangers | Won | 2 | 1 | Tozer, Cargo |
| 29-May-82 | H | Hamilton Wanderers | Won | 3 | 1 | Liddle 2, Tozer |
| 5-Jun-82 | A | Point Chevalier | Drew | 1 | 1 | Liddle |
| 12-Jun-82 | H | Point Chevalier | Won | 7 | 1 | Mackrell 2, I Reyes 2, S Williams, McDermid, Harman |
| 19-Jun-82 | H | Kelston West | Drew | 1 | 1 | S Williams |
| 26-Jun-82 | A | Huntly Thistle | Won | 2 | 1 | Tozer, Mackrell |
| 10-Jul-82 | A | Cornwall | Lost | 1 | 2 | Cyples |
| 17-Jul-82 | H | Oratia United | Won | 2 | 1 | I Reyes, Own Goal |
| 24-Jul-82 | A | Otara Rangers | Drew | 0 | 0 | |
| 31-Jul-82 | H | Cornwall | Lost | 0 | 1 | |
| 7-Aug-82 | A | Hamilton Wanderers | Won | 5 | 1 | McDermid 2, Tozer, Hunter, Cargo |
| 14-Aug-82 | A | Tauranga City | Won | 4 | 1 | Plume, S Williams, Cargo, Tozer |
| 21-Aug-82 | A | Claudelands Rovers | Won | 1 | 0 | Tozer |
| 6-Sep-82 | H | Tauranga City | Won | 5 | 1 | I Reyes 2, McDermid, Tozer, S Williams |
| | | | | 42 | 17 | |
| CHATHAM CUP | | | | | | |
| 24-Apr-82 | A | Hamilton Wanderers | Won | 5 | 0 | Grandonna 2, Cargo 2, Mackrell |
| 22-May-82 | A | Claudelands Rovers | Lost | 3 | 3 | Tozer 2, Mackrell |
| COUNTRY FOODS CUP | | | | | | |
| 27-Feb-82 | H | Huntly Thistle | Drew | 1 | 1 | Matthews |
| 6-Mar-82 | A | Waiuku Steel | Drew | 1 | 1 | Mackrell |
| 27-Mar-82 | A | Waikato Unicol | Win | 2 | 1 | Grandona, Mackrell |
| 1-May-82 | H | Eden | Lost | 1 | 2 | J Stewart |
Northern League Div. 3 Appearances
| | | | | |
| --- | --- | --- | --- | --- |
| | | Starts | Sub | Goals |
| Jason | Cargo | 18 | 0 | 4 |
| John | McDermid | 18 | 0 | 5 |
| Steve | Williams | 18 | 0 | 4 |
| Keith | Mackrell | 17 | 1 | 5 |
| Ignacio | Reyes | 17 | 0 | 6 |
| Jeff | Tozer | 16 | 1 | 7 |
| John | Mohn | 16 | 0 | 0 |
| Richard | Plume | 15 | 1 | 1 |
| John | Cyples | 13 | 3 | 2 |
| Michael | Liddle | 13 | 0 | 3 |
| Jim | Barry | 10 | 1 | 0 |
| Barclay | McGhie | 6 | 2 | 0 |
| Jeff | Harman | 6 | 1 | 1 |
| Sean | Crowe | 5 | 0 | 0 |
| Sandy | MacDonald | 3 | 0 | 0 |
| John | Stewart | 3 | 0 | 0 |
| Nelson | Grandona | 2 | 2 | 2 |
| Mike | Heappey | 2 | 1 | 0 |
| Phil | Hunter | 0 | 7 | 1 |
| Brian | Harding | 0 | 3 | 0 |
| Mick | Mathews | 0 | 3 | 0 |
| Phil | Gibbs | 0 | 1 | 0 |
| John | Murphy | 0 | 1 | 0 |
| Own Goal | | | | 1 |
| | | 198 | 28 | 42 |
Chatham Cup Appearances
| | | | | |
| --- | --- | --- | --- | --- |
| | | Starts | Sub | Goals |
| Jason | Cargo | 2 | 0 | 2 |
| John | McDermid | 2 | 0 | 0 |
| Steve | Williams | 2 | 0 | 0 |
| Keith | Mackrell | 2 | 0 | 2 |
| Ignacio | Reyes | 2 | 0 | 0 |
| Jeff | Tozer | 2 | 0 | 2 |
| Richard | Plume | 2 | 0 | 0 |
| John | Cyples | 2 | 0 | 0 |
| John | Mohn | 1 | 0 | 0 |
| Michael | Liddle | 1 | 0 | 0 |
| Sean | Crowe | 1 | 0 | 0 |
| Sandy | MacDonald | 1 | 0 | 0 |
| John | Stewart | 1 | 0 | 0 |
| Nelson | Grandona | 1 | 0 | 2 |
| Mike | Heappey | 0 | 2 | 0 |
| Jeff | Harman | 0 | 1 | 0 |
| | | 22 | 3 | 8 |
Country Foods Cup Appearances
| | | | | |
| --- | --- | --- | --- | --- |
| | | Starts | Sub | Goals |
| John | McDermid | 4 | 0 | 0 |
| John | Mohn | 4 | 0 | 0 |
| Richard | Plume | 4 | 0 | 0 |
| John | Cyples | 4 | 0 | 0 |
| Mick | Mathews | 3 | 1 | 1 |
| Jason | Cargo | 3 | 0 | 0 |
| Steve | Williams | 3 | 0 | 0 |
| Keith | Mackrell | 3 | 0 | 2 |
| Ignacio | Reyes | 3 | 0 | 0 |
| Jeff | Tozer | 3 | 0 | 0 |
| Sean | Crowe | 3 | 0 | 0 |
| John | Stewart | 2 | 1 | 1 |
| Nelson | Grandona | 2 | 1 | 1 |
| Mike | Heappey | 1 | 1 | 0 |
| Jeff | Harman | 1 | 0 | 0 |
| Sandy | MacDonald | 1 | 0 | 0 |
| Michael | Liddle | 0 | 1 | 0 |
| Jeff | McLaughlan | 0 | 1 | 0 |
| Jimmy | Reyes | 0 | 1 | 0 |
| | | 44 | 7 | 5 |